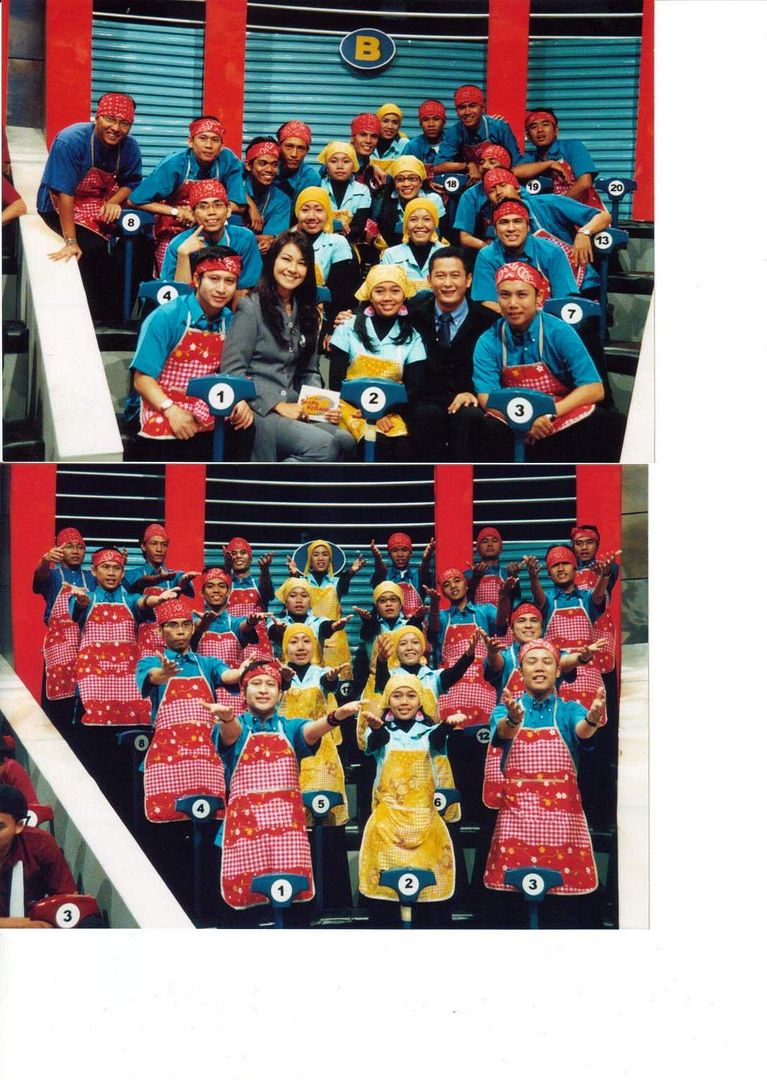 If you feel a bit confused about the title, just let me inform you. Do you remember "Kuis Siapa Berani" that aired a long time ago ? Yes ! The quiz which hosted by Helmi Yahya and Alya Rohali has came back. Uwoooowh I couldn't thrill more when I know that this quiz is going to be aired again on RCTI.
This cameback remind me to the " masa kejayaan gue pas sd" hahahaaa. Gini lhoo, waktu sd itu, gw jagoooo banget soal pengetahuan umum begini2an. Kalo misalnya ditanya nih, pelajaran andalan lho apaan, mungkin gw malah bakal jawab pengetahuan umum. Bukannya matematik, plkj, dll. Emang dasarnya dari bayiiii nih gw udah jadi potato couch a.k.a maniak pelahap semua yang ada di tv(kecuali sinetron dangdut alay). So I grew up with holding a lot of information and knowledgement on my back, and it's all I got from tv. Mulai dari Eva Braun cewenya Hitler, Brad Pitt yang model iklannya mobil altis, Bukarest yang ibukotanya Rumania bukan Budapest yang ibukotanya Hungaria, sampe si Matahari, mata2 PD 2 yang kelahiran Indonesia. Dan otomatis kuis2 beginian paling bisa ngebuat gw hepi, karena di satu sisi gw bisa ikut nguji seberapa luas my knowledge so far dan disisi lain gw dapet pengetahuan2 baru. Dan pengetahuan-pengetahuan baru inilah yang gw jadiin senjata buat gw ngalahin tim2 lain khususnya timnya Resta, kalo pak Wahyudin (guru ipa pas sd) bikin kuis tiap habis pelajaran. KArena si Resta dan tim2 lain menangnya pas sesi pengetahuan alam, dan gw pun selalu ngebales dendam pas sesi pengetahuan umum, wehheeehhehheee.
(big sorry if this sounds show off -_-)
Back to the story, jadii I watched the commercial yesterday and quite very happy to know it. And today, I started my day at 05.45 and realized that mom, kemal, and Rafi had gone to schools. AS Rafi is having his UASBN today and mom accompanied him to give moral support. Then I took a pray. I had planned from yesterday to have some sport for today, but I felt too reluctant to have a walk around my neighborhood, yeah I afraid and feel lazy to meet those fucking vicius-faced dogs which always scared me with their sudden-barks.

You know, how smart I was for getting an idea to follow a video senam dari youtube. dan senam2 lah gw

, until 07.00 o'clock. After that I turned on the TV, as I think that those un-educate tv channel served us best just in the morning.
Ahaa, what a nice surprise to have kuis siapa lebih berani aired on my tv ! acoording to the fact that before it, I just proposed to watch Go Spot the infotainment.
Oh nooo, suddenly my GENERAL-KNOWLEDGE-SPIRITS back again after all this time ! like a rainbowish storm in the holey afternoon (petir yg terlihat seperti pelangi di siang bolong), hahahaaa. Langsung deh, I googled by typing "pengetahuan umum' on the search box and I got a few basics general knowledge and surprisingly it works !
Oke,let me tell you first about the new edition of tis quiz.
first, the title is no longer "kuis siapa berani" but changed into "kuis siapa lebih berani"
second, still the same format, like there's no change at all
third, still, it hosted by Alya Rohali and Helmi Yahya
fourth, the quiz is more technology savvy by using the big screen for some questions
fifth, the quiz is airing on RCTI
And I reaaally, enjoyed the quiz. How I yelled the right answer when no one on the quiz could answer the question, how happy I was to get new knowledge. And how happy I was ketika gw tau
'ada berapakah provinsi di Indonesia yg menggunakan nama ......... barat.'
The fact is ada 6 provinsi di Indonesia yang bernama seperti itu. That's why tadi gw bilang hasil gw googling itu works banget, pas banget sebelumnya gw baca blog tentang pengetahuan umum, ada tentang provinsi2 di Indonesia. Di situ, Sulawesi Barat yang ibukotanya Mamuju itu dikasi tanda
*
. Jadi pas iseng2 nebak jawabannya, gw agak bingung apakah Sulawesi Barat is counted or not. Kalo diitung jadi ada 6 provinsi, which are :
Sumatera Barat
Jawa Barat
Kalimantan Barat
Nusa Tenggara Barat
Papua Barat
dan Sulawesi Barat
Lumayan banget kan googling gw di pagi hari ;) dan tadi pas di babak finalnya, gw selalu googling tiap pertanyaan. Misalnya tentang Lego yang asalnya dari Denmark itu benar atau salah, atau tentang Adolf Hitler lahirnya di luar Jerman betul atau salah. Nah langsung deh pada detik itu gw search, dan gw dapet jawaban2nya di beberapa detik kemudian. Lego itu dari Denmark dan Adolf Hitler lahirnya di Austria, bukan di Jerman.

Wohuhooo, intinya, I have this morning exploited good so far ;) heheheeee.
Now, Dahsyat is airing on my TV and almost of those music sounds so-so -_-